MY RECOLLECTIONS OF 1971 RACING THE MINI COOPER
by John Unsbee
I had been aware of Mini Coopers from British racing magazines in the 1960s and saw the first ones race at the inaugural Grand Prix of Canada at Mosport in the summer of 1967. There was a gaggle of Mini Coopers along with a lot of other little cars in the sedan support race and up front were two big Mustangs and two Camaros. I was surprised at the reaction of the crowd on the pace lap because they were all cheering and waving their arms. It was just a support race - what was all the excitement about I wondered? Clearly they knew what was coming and I didn't.

The race started and the four big cars pulled away except for this one little green Mini Cooper of Bill Brack. The crowd of about 60,000 people were abuzz when they came by the first time with the four big cars and the one Mini right behind them, followed by a big gap to the other 50 or so Minis and other little cars like Anglia's and Imps. Each lap a roar would go up as the five leaders went by until one lap there was an enormous roar when it was now two Mustangs, one Camaro, one Mini, and the other Camaro as they passed our position.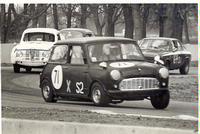 After a couple laps another enormous roar went up and they came by Mustang, Mustang, Mini, Camaro, Camaro. The Mini's roof was about at the door handles of the muscle cars as he would lean over on them through the corners, and the crowd was going nuts when they came by Mustang, Mini, Mustang, Camaro, and Camaro. One of the Camaros dropped out and then the biggest roar of all when they came by Mini, Mustang, Mustang, Camaro. The roar could be followed all around the course and we could see a gap through the trees over on the back straight where the big cars were way ahead followed by the Mini, but by the time they got back to where we were in the corners the Mini was in the lead. Well one of the Mustangs finally beat him to the flag and he finished second and it kicked off the biggest celebration I ever saw at a race course before or after. The crowd went absolutely nuts waving Canadian flags and literally jumping the fences and running down to the track to celebrate and wave and applaud Bill Brack and his little green Mini.

That day as I stood there enveloped in this wild celebration party as he went by on the cool off lap I pointed at that car and said out loud to nobody in particular, "Some day I'm going to do that." I was 19 years old and in college and I knew it wasn't going to be anytime soon but I vowed someday the people would be roaring at the fence when I took on the Mustangs and Camaros in a tiny Mini Cooper and strange as it may seem that day eventually came to be.

By 1973 both SCCA and Midwestern Council at Blackhawk Farms where it was short and twisty enough I could run with the big stuff, when possible they would instead of the usual B and C Sedans and maybe E and F production grids, when they saw I was on the entry list they would include A Sedans in the race with me. They told me specifically they did this because they knew it was going to be a show. Neither the A sedan drivers nor the other smaller car drivers wanted this alignment but they did it to watch me take on the big cars. And when we would go out on the track almost everybody in the paddock would drop what they were doing and swarm over to the fences and ropes to watch the action.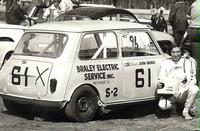 Blackhawk Farms had one long straight and all the rest was twisty bits where I could catch them and pass them and then the muscle cars would all blow me off down the straight and leave me behind but then they would park going into turn one and I would catch them and zigzag down through them and go sideways down the inside squeezing through the tiniest of gaps forcing them offline, and then beat them out of the corner and lead them around throughout most of the lap until we got to the long straight again where it would repeat. They would all go by flashing me the bird and shaking their fists but then they would park again going into turn one and I would zigzag through them again and the crowd would go nuts. Of course this was not a huge crowd like the Canadian Grand Prix but I did stir up the spectators in the same way Bill Brack did whatever they put me in with the big cars. So anyway the race I saw at Mosport was my motivation to when I got out of college and got enough money and started racing it was going to be in a Mini Cooper.

In the time between discovering Minis in person and graduating from college I read everything I could on them and I also read articles and reports on how to drive them and I learned that with the front wheel drive you didn't drive them conventionally. I read an article by John Rhodes who was primarily a rally driver I guess but also ran a lot of circuit racing and he described how he went into corners sideways and used tire scrub and downshifting to get into the corners much faster and deeper than other cars. I saw photos of him doing it in Autosport, smoke pouring off the tires. I saved that Mini driving article and read it often. When I got my race car I wanted to know how to do that and that was my driving goal. I wanted to drive a Mini properly like the British racers did. I had no idea that would be as successful and controversial as it turned out to be and how few others would know how to do it too.

Photos one and two are of the car you now own when it was being raced by its previous owner Mike Rossiter. I took pictures of all of the Minis and just happen to have a couple of him which I discovered after I bought the car. At that time the car was British racing green and was lightly modified with a MG. 1100 engine and a roll bar but not much else in the way of performance modifications. You can tell it is the same car from subsequent pictures by the mirrors out on the fenders. In the winter of 1970 I found an ad for a Mini Cooper race car $1000 near where I lived and photo three shows the car on a trailer for sale. Very bad cracked old Polaroid I did the best I could do in Photoshop to fix it as much as possible. At some point it had been painted white. Because this was a turn key racecar and I didn't have to do anything but paint it and the price was right I bought it literally with every penny I had earned since I graduated from school the previous June. He told me it would get me through driver school and maybe a couple races but it was going to need to be rebuilt before long. That was enough to get me started.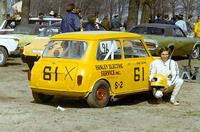 The rest of the photos show the car sanded down and ready to go to the paint shop, the interior and engine compartment, and the first coat of yellow paint that turned it into my car. My dad had stock cars in the 1950's and we raced quarter midgets from the time I was nine until 15 and they were always painted that color of yellow because my dad did traffic signals for the city of Chicago and the state of Illinois and they had a lot of yellow paint around and that's why they painted the stock cars that way. All of the other cars were red or white or black or blue and the yellow cars really stood out on the track. That's how the family teams all ended up a version of school bus or traffic signal yellow.
Nobody can miss you in their mirrors.

PHOTOS 14 AND 15
I think this is the Midwestern Council driver school weekend. They had driver school on Saturday and a race on Sunday it was a one-day driver school not like SCCA that held two day schools. Some things I notice about the car and my recollections. The big X on the car is Midwestern Council's version of rookie stripes. I'm not sure how long you had to wear it but I think it was six races until you got your full competition license. But in my case I had to go longer because I was being punished for my behavior in driver's school which I almost flunked.

Having raced nine years in quarter midgets, grown up in a racing family, and having read every book and magazine I could read since I was old enough to read, and having to wait until I was 21 and then actually 23 until I got out of college, I was more than ready to be a race driver when the time finally came. In driver school I simply exploded from all of this pent up waiting and I was flying, breaking the track record for Sedan 2 by over 2 seconds in a car that had never done anything before and setting lap records for my class after only a few laps on the track. I was much faster than anybody in my class had ever been. But not every lap. The record laps came disbursed in between the ones were I created massive dust clouds on the outside of many of the corners. It seems that John Rhodes technique wasn't something you could learn overnight and I spent a lot of time flying off sideways and backwards into the dirt and reappearing somewhere down the track disregarding corner workers etc.

Basically let's just say I was a bad boy but very very fast when I managed to put a lap together. The problem was my instructor was highly enthusiastic and was egging me on saying I was the best student he had ever had and kind of downplaying all of the time I was spending sideways in the dirt. But the officials in the tower kept black flagging me an chewing me out at the starting line which I couldn't really hear so I just waited until their mouths stopped moving and went back out and continued just like I had been doing, trying to find the limit without flying across it too far. It was definitely a trial and error, lots of errors process.

To make a long story short when they got to driver evaluations the majority of the observers wanted to flunk me for being erratic and dangerous which I definitely was, but my instructor put up an enormous fight for me saying I had more raw talent in my little finger than any driver he had ever seen and I was going to be a "great one" as soon as I calmed down. They finally agreed on a compromise to give me a rare "three race observation" meaning I was under probation even beyond the normal novice license holder and at any time could have my license pulled. They were probably right about this but the thing that pissed me off was when they handed out the licenses at the end of driver school at the beer bust they waited to last for me and the chief steward whose name was Ray Novotny who can be seen in some of the pictures in that number six VW Beetle (which was very fast by the way), he singled me out at the end and said Midwestern Council was giving me this three race observation license against his better judgment because even though his instructor said I was the young best driver he had ever seen he personally thought I was dangerous and had no business being on the track and "He'll never make it as a race driver." I had to walk up there in front of everybody and take this bogus probationary license and I swore "You son of a bitch I will beat you if it's the last thing I ever do." Note - it took me about three races to beat him and the pictures are coming up.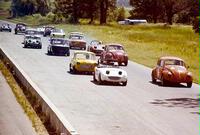 So anyway I think those pictures were driver's school weekend because the car looks pristine and my uniform is clean and new. The car has the red wheels and the rookie X. you can see from the pictures with the red wheels the car had no negative camber, had not been lowered, had a lightly modified if not stock MG 1100 engine, I don't remember exactly. It had a roll bar but no cage, but it was a beginning. The first three races I don't recall where I finished but I know I didn't win. But I did start to learn how to stay on the track. The car was getting more and more tired though and needed a rebuild and after the third race I told you briefly on the phone a guy walked into the garage looking for some old racing tires to put on his woody wagon Gymkahanas. He started looking at my racecar and saying "no no no" and give me a wrench and he became my chief mechanic for the next 15 years, Bill Peterman.

It was time for a rebuild, I had acquired a little money, and now I had somebody who knew what to do. What I recall is they put clay on the top of the cylinders and torqued down the head and discovered they could take over 100,000ths often the head. I got a flat top pistons, a 649 cam, a 295 big valve head which Bill ported, had the flywheel lightened, everything balanced, a new racing quality distributor, modified SU's, , we lowered the car and cut out the wheel wells and welded them up so wider tires could fit the lowered chassis. We did all of the basics we read about in a mini special tuning book, and we reemerged at the track with a firecracker. They couldn't touch me after that. All of a sudden the car came together with my improved discipline and driving and I was untouchable in my class.

After a couple of wins my dad had been bugging one of his best friends to come out to a race, and old-school right-wing, ovals only, road racing is sissy, type guy who ran a welding company in Hammond Indiana and who had been a welder in the Seabees on Iwo Jima during World War II. This was one tough dude and he was turning up his nose at the Mini, saying I should be running USAC midgets, I was wasting my time in children's cars, which I said fine get me a ride and I'll do it. He was telling me nobody would take me serious driving something like that. Anyway he came out to the track and watched one practice session and turned to my dad and said "My God what is that thing? I had no idea. That thing goes like a greased pig. I didn't think that thing could go fast enough to hurt somebody but that kid is going to kill himself in that thing unless we get a roll cage in it this week." So the next weekend Mac, who built roll cages for USAC midgets fabricated, bent and welded my cage. I was developing a team of experts and becoming a force 5 races into my career.

PHOTOS 16 THROUGH 19
These were taken at Milwaukee where we ran the infield course as well as most of the outer mile oval. I don't think they use it anymore. I gave you a paper that I think details results of every race result I ever had in the Mini but since I don't have that to consult I'm not sure but I think I won every race the rest of the year after the first three except two, one when the fan belt came off at Milwaukee, and another when the tail pipe hanger broke and I got black flagged for dragging the tailpipe, although that could have been the following year I'm not sure exactly when the tailpipe incident happened. Other than that they couldn't beat me.

PHOTOS 20 THROUGH 42
Miscellaneous pictures all from Blackhawk Farms mostly a turn four. At some point I got the custom 6 inch wide wheels. I don't know what to call them not mag wheels but the ones that I ran the rest of the time I ran the car. Couldn't afford Minilights. Also added the fender flares but these pictures seem to depict the early car with the red Cooper S. stock wheels and no flares.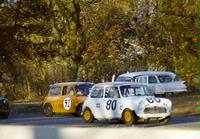 PHOTOS 43 THROUGH 46
I think this may be the race where I first beat Ray Novotny in the orange number six Volkswagen Beetle after vowing I would beat him some day. I see he is outside front row with a Bugeye Sprite on the pole and I am inside second row, but by the first turn I am past the Sprite and moving in on him and in the black-and-white picture I'm ahead. As I said it took me three races to beat the bastard who said I would never be a race driver and that was probably my first real self satisfaction success in racing was beating the man who publicly ridiculed me after driver school. I do recall flashing him the bird when I went by.

PHOTOS 43 THROUGH 46
By this point in the season we have the 6 inch wheels and the fender flares and were unbeatable. While scanning photo 54 I realized my dad then was the exact same age I am now. That's kind of an eerie feeling. He died three years ago so he had about 35 more years to live at that point.

PHOTOS 56 THROUGH 63
I had forgotten all about this until I saw the photos. These are from the very last race of 1971. Midwestern Council had a convoluted point system that awarded points based on the number of cars in your class. So if there were only three cars in your class you would get one amount but if there were six or seven cars in your class you would get quite a bit more points for winning your race. Basically what that meant though was winning races with more cars in your class was more important than less cars yet it was always the same two or three who were in competition for the win so in reality it wasn't any harder to beat seven cars than it was two because it was the same two you are worried about. Under this system the result was how many backmarkers showed up made a huge difference in the points. Because I missed a couple of races during the rebuild it turned out I had to win the final race and have seven cars in the race to win the championship if he finished 2nd. We knew there would be six there so we arranged with John Boldt who you talked to, to bring out a car that would qualify for the class to make a 7th entry so if I won I would win the championship as a rookie even if my competitor finished second. Unfortunately something happened to the car in practice so John couldn't start so it meant I had to win and my competitor finished no better than third for me to win the championship.

However that day there was also a subplot because as you can see in those pictures there were too Mini Coopers on the front row. These were both SCCA national cars that after the SCCA season was over showed up at the Council race as a tune up for the runoffs at Atlanta where both cars were qualified. One was Bruce Nesbitt who later went on to win a Trans Am race and who was the big hotshot Mini racer in the Midwest and the other was his friend in the orange car. Now they were in Sedan 3 which was the equivalent of SCCA C. Sedan and I was in Sedan 2 so they didn't affect my class championship at all but you can see I was on the pole of the normal Midwestern Council racers and the ringers from SCCA were up front. Well the race started and Nesbitt ran away but after a race long battle with the orange Cooper S. I ended up beating him and finishing second overall and first in sedan two. Unfortunately my competitor finished second in class and that was enough for him to win the championship by one point which was a big disappointment. I had raced two races less than him and had won two or three more then he did but it just so happened that the points he got for his wins were much higher than the ones I got for most of my wins because there were more cars in the class the days when he won than when I did. It was just a fluke and proved the point system was totally unfair and they changed it after that season to give a standard number of points for each position no matter how many cars were in the class.

As it was we were after the race trying to calculate whether we had won the chairmanship or not and I didn't know it but the guy who did win was not aware of it for a couple of months until the banquet. He thought he had lost. We weren't sure who had won and we were trying to calculate all season long to determine who had won. Nobody seemed to know and about this time Bruce Nesbitt and the other Mini driver shows up. It seems that his buddy wants to protest my car claiming it could not be at 1100, he could not lose to an 1100 when he was a big shot Central division runoff qualifying boy, and I was obviously cheating and he was going to protest my car. Nesbitt was telling him he was an idiot, he had seen my engine and he knew it was 1100 and this guy was just making a fool out of himself. Nesbitt asked me to open the hood and he points out to him that my engine did not have the extra head stud that the 1275 had and it did not have the plates on the back under the headers and it was definitely an 1100 not a disguised 1275. Well this guy was saying it was a 1275 disguised somehow in a 1100 block and he was going to protest and prove I was a cheater. Nesbitt told him no you're not I'm not going to let you make a fool out of yourself and he said and I remember these words "You got beat by an 1100 with drum brakes and the reason you got beat was not because he is cheating but because this kid is a race driver and you're not." And then they walked away and I lost the championship but somehow I felt I had won something. I had beaten an SCCA run off car with MG 1100 engine and it was time to move on from the Midwestern Council and move my act to SCCA for 1972. The only problem is I needed a Cooper S and I didn't have one.

That was soon to be resolved however when I found I could get Cooper S. brakes from a guy in Michigan for something I could afford and we located a wrecked street Cooper S. where I could get the engine and gas tanks and insignias and my brother could get the brakes for the 850 car he was going to race in 1972 as soon as he turned 21 in June. So we would make a Cooper S out of my car over the winter and there was only one more thing to do in 1971. Nesbitt invited me to come out to a test day at Blackhawk Farms where he and another run off car (not the orange Mini) were going to test before going to Atlanta to the runoffs. They needed four guys to help rent the track so I and another Council racer kicked in. I wanted to go out to reward my crew with a chance to drive the car, give my brother a chance to drive, and just to have a relaxed fun day flogging the car around because it was going to be all changed for next year anyway and I didn't care if we blew it up. Which of course we went right ahead and did.

THE DEMISE OF THE 1100 – PHOTOS 64 THROUGH 67
Photo 64 is blurry but it shows me with the driver's school seat in the car taking one of my crew members out to let him get a few laps to try out driving the car. It was a way to pay them back for all of the free work they had given me on our way to the almost championship. Our test day was a beautiful fall day and we took to the track whenever the SCCA guys were temporarily messing with their cars or taking a break. We were not allowed to have more than one car on the track at a time under the agreement to rent the track. So my brother got to drive and so did my crew members and at some point I was out in the car going through the carousel when the old 1100 gave up and blew a big hole in the side, liberally oiling down the track and sending me spinning off in my own oil. After I think 13 races in 1971 plus I don't know how many under the previous owner the old 1100 engine finally gave up.

It wasn't a huge loss because I wasn't going to use it the following year but I did intend to keep it to maybe insert into the car to run council Sedan 2 on occasion. Anyway these photos show the mess I made at the carousel much to the disgust of the SCCA guys. We tried to put dirt on the track to sop up the oil and my dad went into South Beloit and bought every broom and oil dry and kitty litter bag he could find and we worked our ass off for a long time trying to get the track back where the SCCA guys could test properly.

That's about all I can remember without having that list that showed the individual races. The first season I learned how to stay on the track and go very fast. I learned how to play the mind game on my competitors. I developed a big crew of guys who wanted to help because they thought I was a good driver, and I learned how to win. Because I didn't have any useful brakes with the drums I had to learn how to get into corners way too fast and still get through and exit at the maximum speed and that was something that benefited me the rest of my career in every kind of car I raced. I could outbrake anybody in any type of car and still get through somehow. Mark Donohue later described it as utilizing the friction circle, transferring forward energy into sideways energy into forward energy all in a smooth circle losing the absolute least amount of energy as you make the transitions and I'm pretty sure that's what I learned how to do through sense of feel as well as a lot of flying off the track until I learned to control it. I tried to mimic what I read John Rhodes had said but I ended up developing a style that got a lot of attention because it looked like an accident ready to happen. An accident that never came. The yellow Mini was getting a lot of attention.

I started out trying to drive like John Rhodes, snapping the car sideways and drifting into corners and that was something I learned how to do out of necessity because with the drum brakes I never could get it slowed down enough and I had to figure out how to get to the apex and exit without going off the road or lifting,. Believe me I went off the road a lot in practice but eventually I perfected my technique so when we got to 1972 they couldn't touch me in SCCA Regionals, on my way to my National Competition license. Before the end of my rookie season I could already beat an SCCA National car with an 1100 and people were beginning to take notice. I was something of a controversial figure with the peace signs on the headlights and the long-haired hippie girls who came along and the psychological games I played and the fist shaking and bird flipping and the intimidation act I put on. And we were something of an enigma. We really didn't buddy around with the others, we didn't go to the beer busts, and we pulled the car with rusted out old trucks and were still working at midnight long after everybody else had gone off to eat steaks. We ate soup and Manwich sandwiches and slept in tents and sometimes there was funny vapor coming out of those tents. We didn't really fit in with the country club type society especially in SCCA. Especially one night when we blew off so many fire crackers and rockets that the owner of the track threatened never to allow Midwestern Council to come back and race there again. We shook the place up. Basically we didn't play nice with the other children. We were kind of arrogant ruffians and ragamuffins and to some, hippie commie creeps. People liked me a lot or hated my guts, but few were neutral and people were taking notice and this was something that carried through throughout my entire career. From my first driver school on some people thought I was the best driver they ever saw and some thought I was the worst because I looked like an accident ready to happen on every corner but strangely enough I never hit anything which they couldn't understand.

I will scan the 1972 photos next. I know none of these are very great but I do have some negatives I'll send you that might make for better pictures. I don't have a lot of photos from the following years because we got busy racing and I never had any money for developing photos but I will scan what I have and send you the 1972 group next.